GREATER MANCHESTER CLEAN AIR ZONES NEEDED NOW TO PROTECT PUBLIC HEALTH
The Breathe Clean Air Group (BCAG) welcomes the recent decision by the High Court to reject the UK Government's proposals for controlling air pollution as inadequate and illegal. We congratulate Client Earth for taking on the Government in order to protect the health of UK citizens exposed to air pollution.
BCAG appeals to Client Earth and the Government to consider the plight of the people of Greater Manchester and draw to their attention the very serious air pollution situation that we have experienced in Davyhulme and Urmston. It is no coincidence that recently, a primary school in Davyhulme has been classified as being the UK's 9th worst air-polluted school for particulate matter.
We request that Davyhulme, Flixton and Urmston are classified as a clean-air zone.
BCAG is also concerned that the results of the Public Health England study about health implications around incinerators has been delayed again. We fear that the crucial element of health downwind of incinerators will be ignored.
AIR POLLUTION IN DAVYHULME, GREATER MANCHESTER
Davyhulme is part of the township of Urmston, which is part of the Metropolitan Borough of Trafford in Greater Manchester. Its northern boundary is the Manchester Ship Canal, beyond which is the City of Salford. Running through the middle of Davyhulme is the busy, elevated, M60 motorway. The western side of the M60 is a residential area, whereas the eastern side of the M60 is Trafford Park. This is an industrial estate established in 1902 and more recently a huge retail outlet known as the Trafford Centre has been built. Further on the eastern side of the M60 is Stretford and then Manchester beyond that. Urmston and its shopping area is south of Davyhulme. The M60 motorway and the major roads in this area have been designated an Air Quality Management Area (AQMA).
As well as air pollution from vehicles along the M60 motorway and visiting the very popular Trafford Centre, there is the threat of a biomass waste incinerator (see below). Davyhulme has a large wastewater treatment facility (reputedly the biggest in Europe), which has 5 anaerobic-digestion, biogas engines and a flare stack. Also there is a conference centre in Trafford Park and plans for a hotel, which will attract even more vehicles. There are plans for Trafford Waters, a waterside commercial and housing development for 3000 dwellings, with restrictions on ground floor residential development due to air pollution. Next to the proposed incinerator, there is planning permission for a coal bed methane extraction plant.
Just across the canal in Salford, there is a rugby stadium and planning permission has been granted for a large retail development. Also Port Salford, an inland container port on the banks of the Manchester Ship Canal is being built. This will attract ships (burning marine diesel) and large barges as well as trains and HGVs. Two miles west of Davyhulme, at Carrington, building is almost complete for a 880 megawatt, gas-fired, power station. And planning permission for another 2 power stations (1931 megawatt and 50 megawatt). Another half a mile further west is a recently built paper mill, which also has an incinerator for burning waste plastic. Also in Carrington is the site of a former petro-chemicals complex, which still has a functional flare stack, situated on a brown-field site awaiting further development.
BARTON RENEWABLE ENERGY PLANT (BREP)
In July 2010, a proposal was announced by a northwest development company, Peel Holdings (now the Peel Group) and its subsidiary Peel Energy, to build a biomass waste incinerator, known as the Barton Renewable Energy Plant (BREP). This would be located alongside the AQMA, where the M60 motorway travels over the Manchester Ship Canal. Local residents formed the Breathe Clean Air Group (BCAG) to oppose this development. The Breathe Clean Air Group decided to carry out an ambient air quality survey in Davyhulme, which was presented to Trafford Council in January 2011. It found:
| | | |
| --- | --- | --- |
| Air Pollutant | Concentration | Legal Limit |
| Oxides of nitrogen | 342 ug/m3 | 200ug/m3 |
| Carbon monoxide | 7.8 mg/m3 | 10 mg/m3 |
| Sulphur dioxide | 69.5 ug/m3 | 350 ug/m3 |
| Lead | 8.2 ng/m3 | 250 ng/m3 |
| Chrome | 19.9 ng/m3 | no limit set |
| Copper | 52.2 ng/m3 | no limit set |
| Manganese | 12.2 ng/m3 | no limit set |
| Arsenic | 4.9 ng/m3 | 6 ng/m3 |
| Antimony | 2.1 ng/m3 | no limit set |
| Cobalt | 0.35 ng/m3 | no limit set |
| Vanadium | 1.1 ng/m3 | no limit set |
| Mercury | 0.01 ng/m3 | no limit set |
| Nickel | 2.8 ng/m3 | 20 ng/m3 |
| Cadmium | 1.0 ng/m3 | 5 ng/m3 |
| Thallium | 0.11 ng/m3 | no limit set |
| Total heavy metals (12) | 104.9 ng/m3 | no limit set |
| Benzene | Less than 1.4 ug/m3 | 5 ug/m3 |
| 1,3 butadiene | 86.1 ug/m3 | 2.25 ug/m3 |
| Total suspended PM | 6.5 mg/m3 | no limit set |
It can be seen that oxides of nitrogen and 1,3 butadiene were already over the limit and arsenic was approaching the limit. All twelve heavy metals were detected. This caused great concern as the proposed incinerator would produce more oxides of nitrogen and since the waste wood to be burnt would originate from construction and demolition sites, it would be impregnated with chromated copper arsenate and increase airborne arsenic levels.
In November 2011 Trafford Planning Committee unanimously REJECTED the planning application. The twelve committee members and a further 12 Councillors spoke against the proposal. The developer appealed against this decision and a Public Inquiry was subsequently held in November 2012.
ENVIRONMENT AGENCY AND THE ENVIRONMENT PERMIT
The developer, applied to the Environment Agency (EA) for an Environmental Permit. Part of the submission included evidence of air quality/pollution from monitoring stations some 5 miles north west of the proposed site (at rural Glazebury in Warrington) and 2 miles east (at Eccles, Salford, where the much less busy M602 runs in a cutting). However, nitrogen dioxide readings from a diffusion tube less than half a mile north east of the site was ignored; BCAG's ambient air quality report was rejected; and the EA did NOT carry out any independent air monitoring.
The developer included flawed nitrogen dioxide figures from boiler/furnace manufacturers in its submission, which was disputed by BCAG, along with air pollution modelling figures, which do not include the adjacent high-level motorway bridge.
It was identified that the proposal would not use Best Available Techniques to combat air pollution. It would use an open grate furnace burning at 850 degrees C (not even a fluidised bed or plasma gasification furnace or a high enough temperature to destroy pollutants); out-dated bag filtration system (no scrubber or electrostatic precipitation); and a chimney stack height only half the height it should be (44.23 metres as opposed to 80 to 100 metres to disperse emissions adequately).
The Breathe Clean Air Group's submissions were rejected by the Environment Agency and the Environmental Permit was issued 2 weeks prior to the Public Inquiry (in October 2012).
PUBLIC INQUIRY AND SECRETARY OF STATE'S DECISION
Before the Public Inquiry, in November 2012, the Secretary of State for Communities and Local Government, Eric Pickles, called in the decision-making.
The granting of the Environmental Permit two weeks before the Public Inquiry effectively scuppered any evidence given about ill-health impacts from air pollution from the proposed incinerator. The fact that the incinerator would be adjacent to an AQMA was not material. The fact that the two local Councils that had rejected the proposed incinerator was ignored.
The decision of the Inspector and the Secretary of State was issued jointly in May 2013. Both allowed the proposed incinerator to proceed.
Trafford Council appealed against the Secretary of State's decision and a hearing was held in the High Court in February 2014. Emissions from the incinerator were not allowed to be presented. Trafford Council's appeal failed and Peel Energy received planning permission.
BCAG MONITOR FOR NITROGEN DIOXIDE
The Breathe Clean Air Group commissioned a programme of air monitoring using diffusion tubes to monitor nitrogen dioxide. The monitoring sites are mainly close to the M60 motorway in Davyhulme and Urmston. There are six schools alongside the motorway. Results are measured in ug/m3 and the legal limit is 40 ug/m3.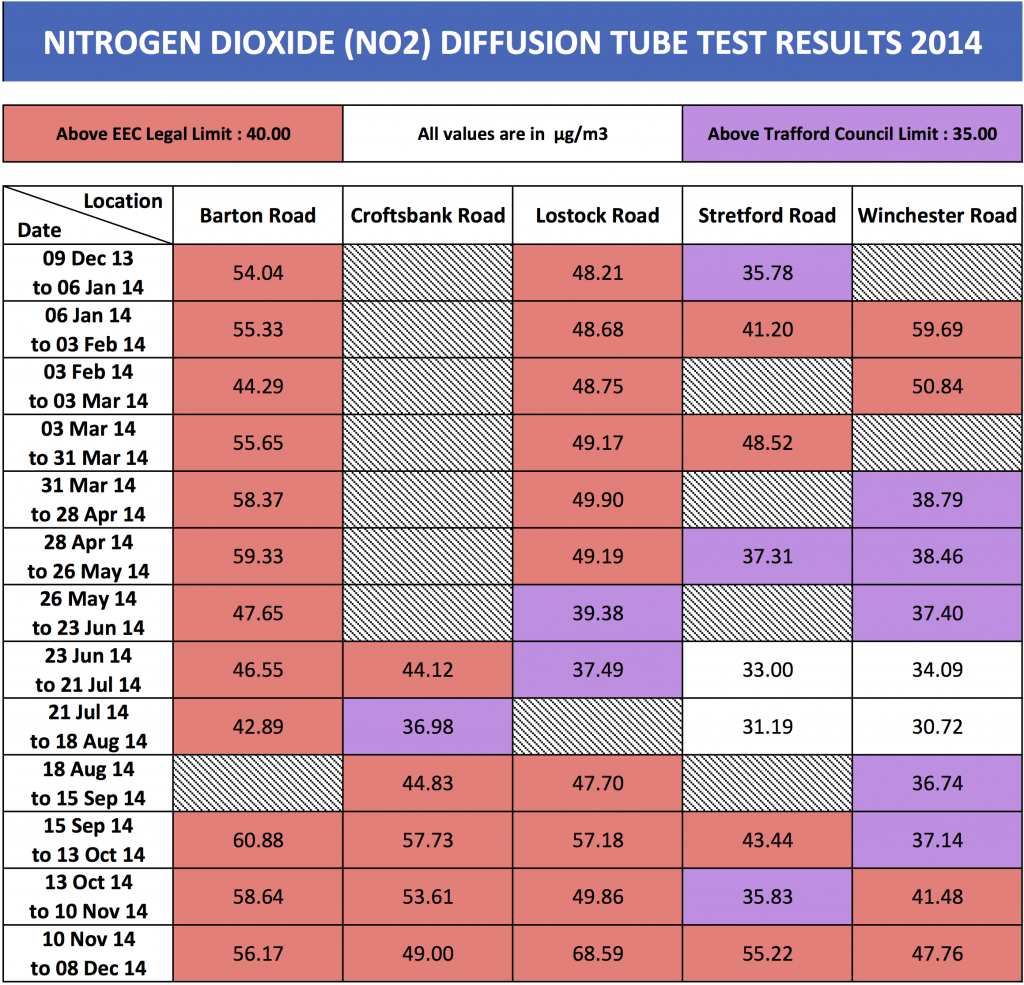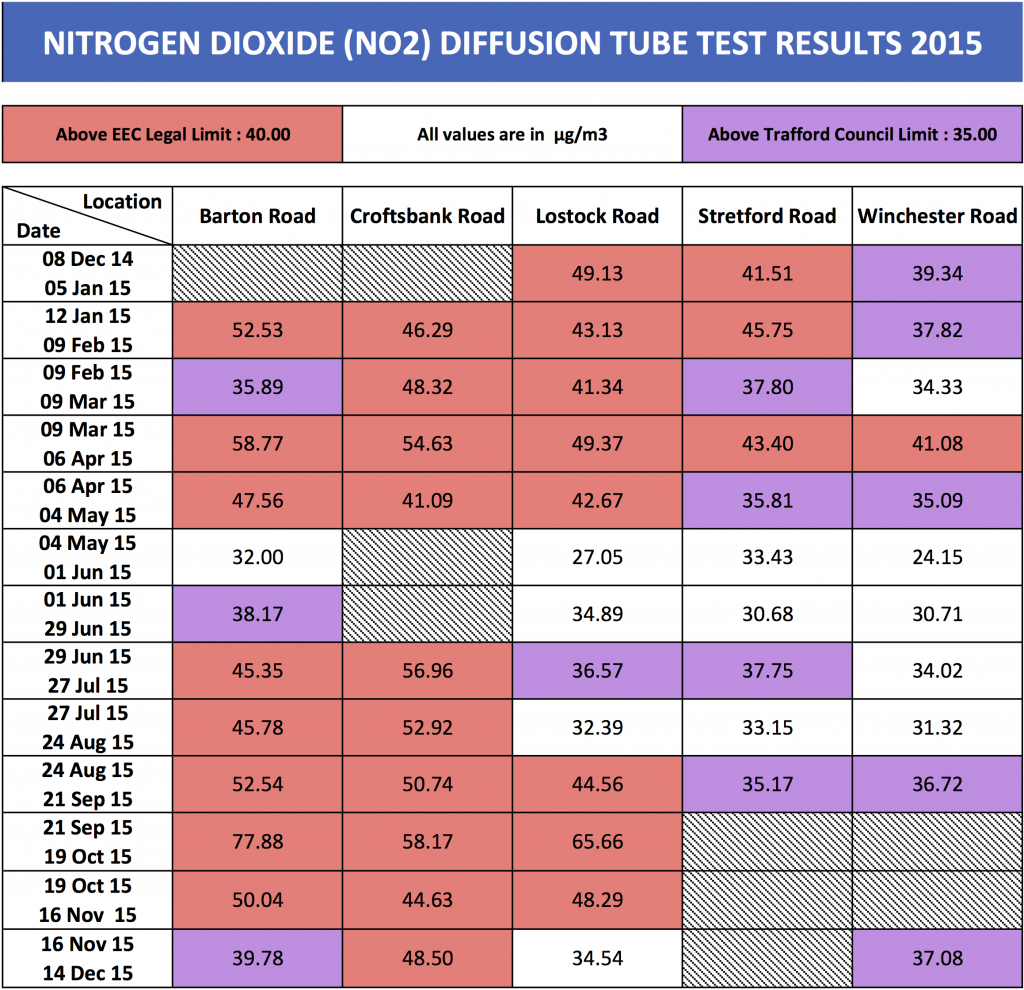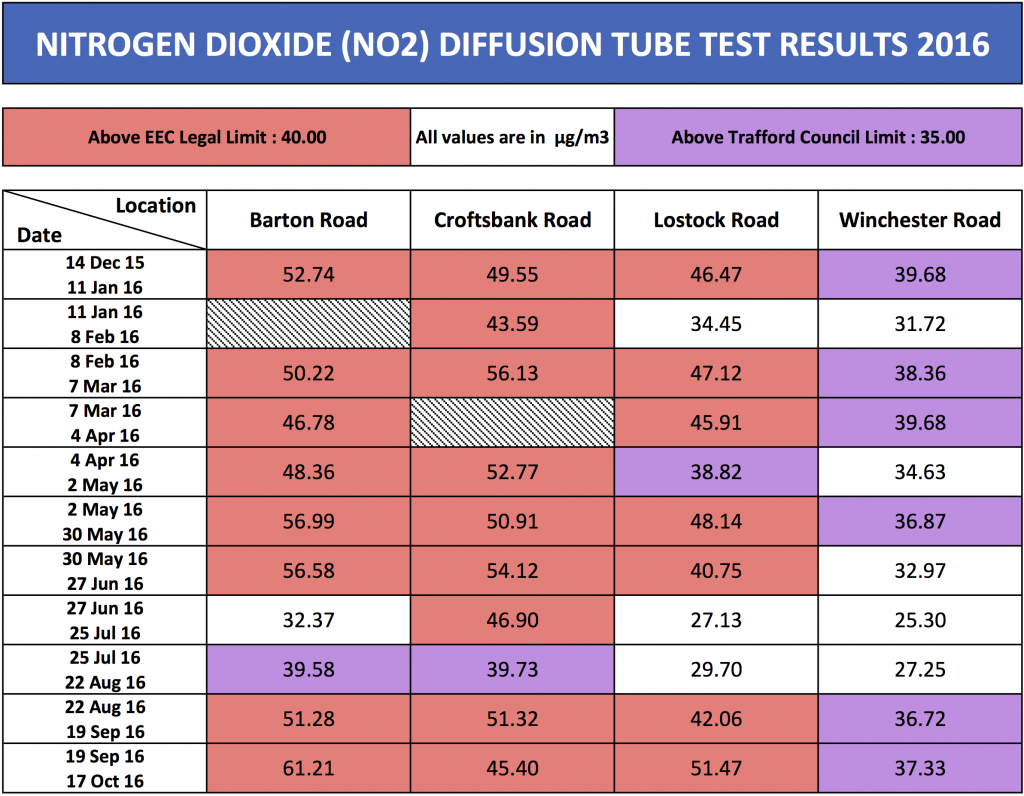 These figures are reflective of the current situation, with a number of schemes only in the design and development stage, within Davyhulme and Urmston. It will be noticed that most of the readings are above the legal limit and rising.
The local authority, Trafford Council, has two air monitoring stations within the borough, which are in Stretford and not near the busy M60 motorway. BCAG held meetings with the Council to improve air monitoring and to get the Council to tighten up its control of air polluting processes. They dismissed our concerns, suggestions and requests with nothing further being put in place to mitigate air pollution and ill-health impacts.
Trafford Council's own Air Quality Study for Davyhulme & Urmston confirms the serious, illegal and rapidly worsening air pollution situation (with modelling that, if anything, understates the pollution levels):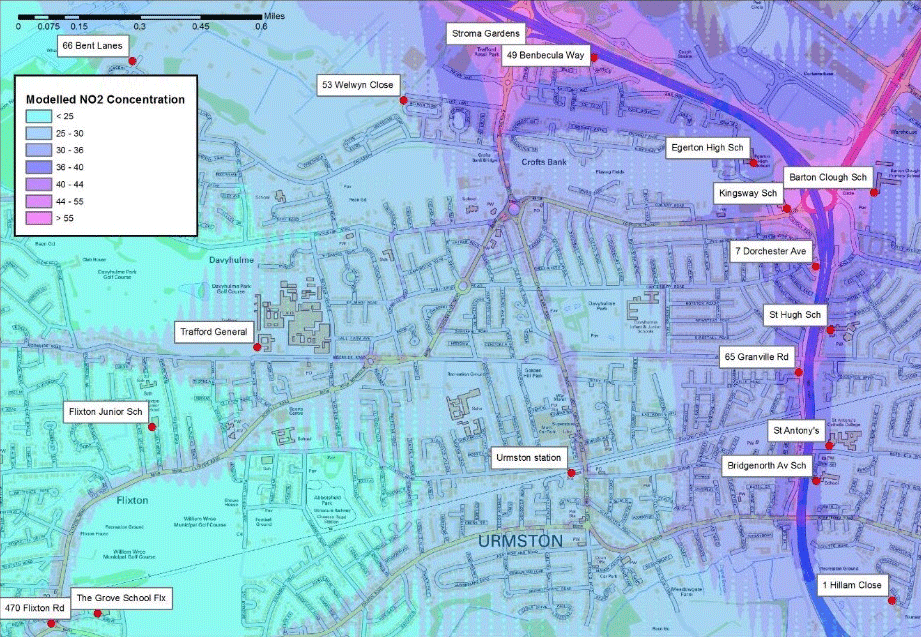 ACTIONS URGENTLY REQUIRED
We need to setup a clean-air zone across Davyhulme, Flixton and Urmston.
We want a halt on the following:
Barton Renewable Energy Plant (Davyhulme Incinerator)
Coal-Bed Methane Extraction
Fracking
Polluting Industries
We need to get a tighter clean-air act.
We need to ban the industrial burning of wood and waste across the country, where it releases harmful pollution into shared open air and produces dangerous by-products.
We need to reduce and eliminate expensive public subsidies for harmful, polluting activities.
We would love to see priority funding and support switched into a rapid acceleration of zero-emission, zero-waste, zero-carbon power (such as solar, hydro, wind and thermal), heating, energy storage and transport, to defend and deliver life-changing public health, environmental and economic benefits.